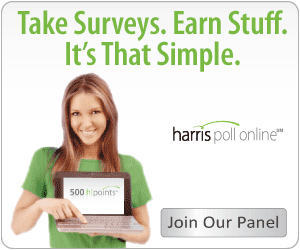 Are you looking for a survey panel to join to earn extra money in your spare time? Check out
Harris Poll Online
. You will earn Harris Poll Online Rewards that you can redeem points for your opinions. Earn rewards that include a variety of merchandise and gift certificates as well. Must be 13+ and older to join.
About Harris Poll Online
Harris Poll Online is one of world's oldest
market research companies
. With over 50 years in the business, HPOL has delved into and analyzed every aspect of American life.
From their very beginning they've known that consumers like you are essential to their business. They need your insight and opinions about the products, brands and trends that make up the new marketplace to help their clients create the
products and services
that make a real difference in your life. Their unique approach to relationship building with their members—combined with their unparalleled grasp of market conditions and changes—has made them a market leader. In fact, they've worked with 74 of the Fortune 100 companies and partnered with more than 500 public relations firms, including the globe's top 20.
Join Harris Poll Online now, and start making extra money for your feedback on products and services.
Have you checked out these exciting ways to make extra money from home?


Have you ever joined Harris Poll? If so, what are your thoughts about it?
Follow Product Review Mom on Google News!