Post contains affiliate links
Hey yall!
I hope you all had a fabulous weekend!
The girls and I did, we went to
Disney on Ice
and we were living it up in the VIP section!
Last year the girls and I went to
Disney on Ice
as media and our seating wasn't that close to the rink.
Michelle asked me if next time we go to Disney on Ice show can we sit in the first row and I told her sure, it'll be part of her birthday gift.
Goodness this girl has been celebrating her birthday for a month now!
She has been to
American Girl Store
,
Sky Zone
, birthday party in her class, went to
Sho Gun Japanese Steakhouse
for her birthday dinner, and this week her
kid's club
will be celebrating her birthday too!
I wish my birthday celebration lasted that long!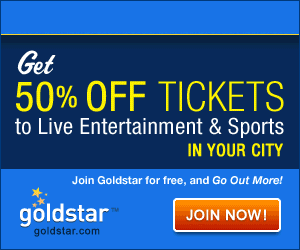 Have any of you heard of
Goldstar
?
If not, Goldstar is a website where you get discounted tickets on events in your local area.
Many events on Goldstar are half price and you can find a lot of family friendly events, I even found some that were free in Atlanta!
While I was browsing Atlanta events I seen they had tickets for Disney on Ice show.
I did a price comparison with Goldstar's Disney on Ice tickets and going straight to Disney on Ice website to see the price difference.
Ticket Price- $95.00
Facility Fee- $3.00
Convenience Fee- $20.90
Total- $118.00 per ticket
Ticket Price- $78.00
Service Fee $11.75
Total- $89.75 per ticket



It was a no brainer that I would be buying my Disney on Ice tickets through
Goldstar
!
My tickets were available at Will Call at the event and I had no problem getting my tickets.
Seriously, check out
Goldstar
if you're looking to buy tickets to events in your area.
They have tickets to events in most major US cities so see if your city is on their website.
This was the girls and I first VIP experience with Disney on Ice and I must say I see why people pay the extra money to sit rink side, the view is fantastic! It's like you can reach out and touch the characters and they also come to you to wave hello.
Included in the VIP section is dining. You choose from their menu what you want and there is a server there to serve you. Now, next time I'm not going to do VIP and just sit rink side because the food was cold. I could tell the food has been sitting around somewhere because our server served our food 2 minutes after our order.
If you ever decide to get your seating at rink side bring a coat, it's freezing near the ice!
Check out some more pics from the show.
Have you ever used Goldstar to get event tickets in your area?
Follow Product Review Mom on Google News!