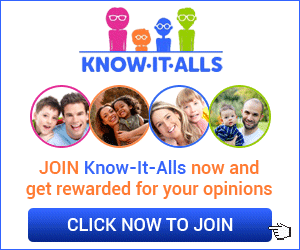 Post contains affiliate links
Do you have a child ages 6-12? If so, join Smarty Pants Know-It-Alls panel! Throughout the year, they send their participants online surveys on a variety of topics, from toys and games, to education, to travel, to restaurants.
And sometimes there are opportunities to participate in focus groups, webcam surveys, one-on-one interviews, or other types of research.
While their surveys are designed to be fun, they also play a very important role in the decision their clients will make about their businesses. So they ask that you only become a member if you are eager to give honest feedback that will help businesses improve their products and services.
In exchange for your time and opinions, you will earn points for each survey. You'll receive up to 500 points for finishing surveys you qualify for. These points are accumulated and then automatically converted to digital gift codes that can be used like cash.
To give you lots of choices of where you can use your gift codes, they use Tango Card (
tangocard.com
).
Every time you accumulate
500 points, we will send you a $5 Tango Card gift code
. Your gift code will be emailed to you automatically, so you never have to worry about requesting your rewards. And, yes, you can save the gift codes we send you and use them together for a bigger purchase.
It's free to join
,
sign up now
.